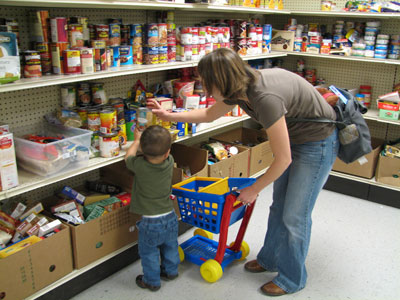 Crystal Owens / Toni Musgrove –  Directors
DUE TO COVID VIRUS, DIDSTIRBUTIONS ARE BEING MADE DIFFERENTLY, PLEASE CALL THE CHURCH OFFICE FOR DETAILS.
"For I was hungry and you gave me food, I was thirsty and you gave me drink, I was a stranger and you welcomed me…" (Matthew 25:35)
If you wish to donate to this ministry, you may do so by mailing your donation to:
Walker Baptist Church
P. O. Box 885
Monroe, GA 30655
You may also make donations online by simply clicking the donate button on the homepage and following the instructions.
Distributions: 2nd and 4th Tuesday of each month
Time: 5:30 pm – 7:00 pm (first come, first served basis)
We are now distributing food on the second Saturday of each month 9:00 – 11:00 am.
Visitors are permitted to receive food once every 30 days but this is NOT guaranteed.
The pantry supplies families with the basic food groups and other items as available. If toiletry or hygiene items are needed by a pantry family let a volunteer know and we will assist if possible.
IMPORTANT: There is only one distribution per household each month. First time applicants must provide picture identification along with proof of residence. Proof of address must be a street address, NOT a Post Office box. A current utility or cable bill is acceptable. You will also be asked to show a picture ID.
All information is for OUR USE and affiliated food pantries ONLY and will be kept confidential.
Please contact the church office if you have any questions. Phone 770-267-2363